Pastor & Ministry Leaders Appreciation Month
Pastor & Ministry Leaders Appreciation Month
October 1 - 31, 2017

Important: This event has already occurred.

Everywhere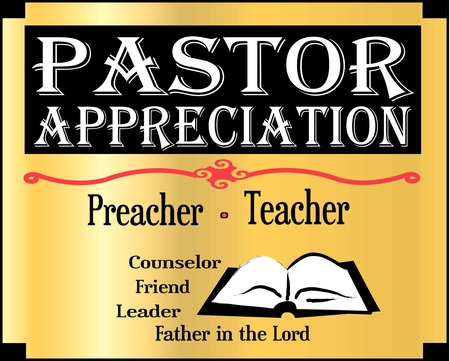 Have you remembered your Pastor, Ministry Leader &/or Volunteers who run the church programs, administration and look after your children in church? Do you keep them in your prayers Always?
Here are a few ways to remember them:
Leave a handwritten "Thank You" note on his desk.
Purchase $5 gift certificates for his kids to go to McDonald's or other favorite restaurant.
Get a Starbucks gift card for him—and one for his wife.
Offer to bring over a home cooked meal.
Give your pastor and his wife a regular date night by watching their kids.
They desperately need some alone time.
Arrange a weekend stay at a Bed & Breakfast for just the pastor and his wife.
Ask, "Pastor, how can I help you personally today?"
Pull weeds, rake leaves, mow his yard.
Wash and wax the family car.
Spring for an oil change and tire rotation.
Make his family a favorite dessert.
Buy a gift card to his favorite bookstore.
Do a "power shopping" of the basics—pasta, cereal, soup, soap, fresh fruit—yes, even toilet paper. Don't forget a few chocolate treats!
If you're handy with a paint brush, offer to spruce up a few rooms in his home as needed. If you have carpentry, roofing, or construction trade skills; give the gift of home maintenance.
Fix that leaky faucet, tighten that toilet seat; even replace a few hard to reach overhead lights.
Offer to visit the infirmed or sick so the pastor can have an afternoon or evening off.
Make a picnic lunch basket stocked with all of the goodies. Have your kids hand paint or draw a homemade banner for the pastor with a favorite scripture verse.
Present your pastor's wife with a certificate for a manicure and pedicure.
Slip an anonymous dinner-for-two gift card in the offering plate with your pastor's name on it. If your pastor's wife has a newborn, offer to take care of the baby one morning. That'll give her time to catch up on a few errands.
Just in time for their anniversary, provide a complimentary overnight stay at a local hotel—and be sure to include some "mad" money!
Give the gift of a "Spic-n-Span" house. Offer to do a deep cleaning—bathrooms, closets, bedrooms, dusting—the works.
Invest in the pastor by investing in his children. Offer to take them for haircuts followed by an ice cream treat.
With the help of your elders or leadership team, create a special Sunday service that serves as a "tribute" to him.
Last but not least, give your pastor and his family an extra week off of vacation. A true vacation—one with no phone calls, no visitation, no weddings, no funerals, no counseling, no sermon preparation, no conflict resolution—nothing but a chance to rest, relax, reconnect with his family while restoring his soul.
Ministry Community Outreach
Return to Events
---